Mittwoch, 16. September 2009
Yesterday I bought me a brand new MPK49




It has a long list of features - The drumpads are preasure sensetiv and the keys feels like the keys of a piano!
I willl show u my first equals!
Stay tuned
Dienstag, 15. September 2009
Shifty Chris - Rough N Shifty

Artist: Shifty Chris
Title : Rough N Shifty 001
Genre : Electronic House
Lable : Indie
Year : 2009
Tracks: 14
Rel. : 15. Sep 2009

Cover (front/back):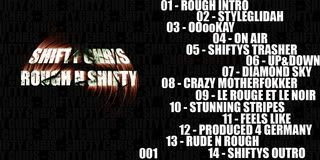 My first own LP is ready at last! Thank you all 4 your great support.
As a simple token of gratitude. I uploaded it and you can download the Tape 4 free!!
There is also a Produced 4 Germany T-shirt print template! (great design - an unique eyecatcher)
If you like it, burn the tape on CD take it to your partys, put it into the player press play and dance!
Tell all ur friends about my music to help me on my way up! Send the link around the world via IM.
It is a great Tape and the price-performance ratio is unbeatable ;)
If you think you are ready for hard hitting electronic house, just click the link underneat or copy it into your browser!


RoughNShifty(depositfilesMirror)
Download RoughNShifty from FileFactory
Big thanks for your great support-
Shifty Chris
Tracklist
-RoughIntro
-Styleglidah
-Oookay
-OnAir
-Shiftys Trasher
-Up&Down
-Diamond Sky
-Crazy Motherfokker
-Le Rouge et Le Noir
-Stunning Stripes
-Feelz like
-Produced4Germany
-Rude N Rough
-ShiftysOutro